Happenings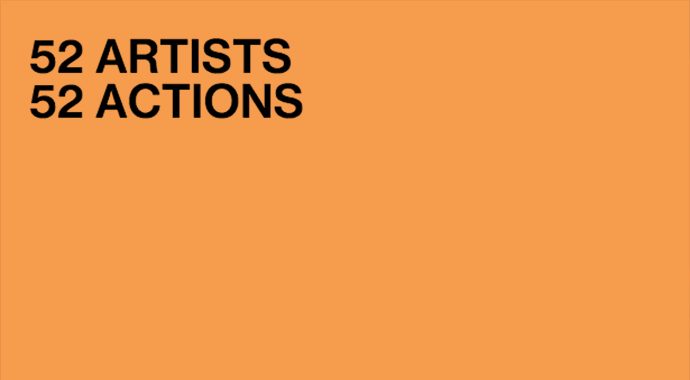 Launching this week, 52 ARTISTS 52 ACTIONS is a year-long project that aims to build awareness around the particular social and political issues affecting diverse physical contexts. Every week for an entire year, a new artist in a unique location within the Asia-Pacific region will create an action relating to a contemporary political issue and share it with audiences globally via the project website and social media channels. Artists and collectives participating in the project are from culturally diverse backgrounds – kicking off the programme in Week 1 is Brisbane-based Indigenous artist Richard Bell, whose work explores the threat of nuclear war, framed against the backdrop of Australia's own socially and environmentally fraught history of weapons testing. Bell will be followed by Turkish artist, Hera Büyüktaşçıya, currently based in Istanbul, and Korean duo YOUNG-HAE CHANG HEAVY INDUSTRIES, known for their online text-based animation art. Stay tuned to the website weekly – details of each artist and their location will be released as the project unfolds.
Main image courtesy 52 ARTISTS 52 ACTIONS.
Where: Online and offline throughout the Asia-Pacific – check the website for details of each week.
When: January 2018 - January 2019
More info: 52 ARTISTS, 52 ACTIONS website
Recent Articles
Onigiri is a staple found everywhere in Japan: from the aisles of convenience stores to fancy food halls. This week, the wonderful Julia Busuttil Nishimura shares two quick recipes for home made onigiri with mustard greens and umeboshi, and mushroom onigiri (scroll down for more), for a rice-filled belly on the go
As a number of Melbourne's prominent gay venues started to close down, Sam Cremean felt a sense of loss. This prompted him to investigate what was happening to gay neighbourhoods internationally. He discovered that these important spaces were slowly disappearing from cities around the world
Where European architecture starts with the exterior shape of the building, Asian buildings are imagined from the inside out. Curators of the acclaimed Indonesia Pavilion at Venice Biennale 2018, Ary Indra and David Setiadi, elucidate how 'emptiness' is sculpted in Indonesian architecture, one remarkable building at a time