Happenings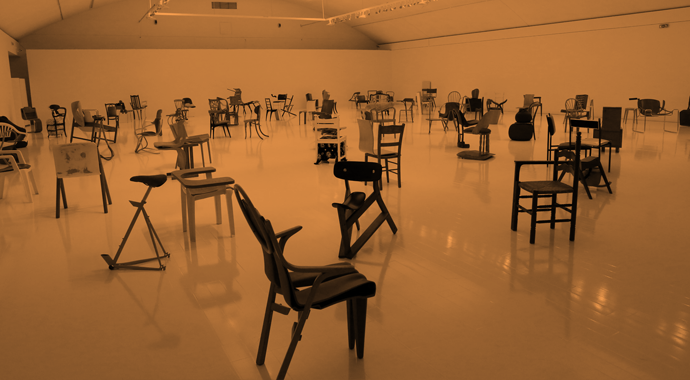 London-based Italian designer Martino Gamper has brought his world-renowned exhibition, 100 Chairs in 100 Days, to Australia for the first time. Launching the RMIT Design Hub exhibition program for 2016, Gamper's collection is the result of spending two years hunting for discarded chairs in streets, alleyways and friends' homes – only to break them down and reimagine them in humorous and inventive ways. Producing one chair a day for the 100-day project, he has created a new '100th chair' for the RMIT exhibition. The new work is titled 'Springmate' and, similarly to the other works, was fabricated in a single day using materials gathered from the various RMIT workshops and from a public callout for personally significant items. The exhibition also includes an 'ideas exchange', where Gamper has brought together a number of local designers to discuss culturally responsive approaches to design.
Gamper started his design career as a 14-year-old apprentice cabinetmaker in his alpine hometown, Merano, before going on to study sculpture under Michelangelo Pistoletto at the Academy of Fine Arts, Vienna. In 2000, he gained a Masters from the Royal College of Art, London, where he studied under hugely influential designer and architect, Ron Arad. Gamper has since gone on to exhibit around the world, with 100 Chairs in 100 Days his most revered project to date.
Original image: 100 Chairs in 100 Days at Benaki Museum, Athens, Greece. Photo via Martino Gamper. 
Where: RMIT Design Hub, Building 100, cnr Victoria & Swanston Streets, Carlton, 3053.
When: 26 Feb – 9 Apr
How much: Free
More info: RMIT Design Hub
Recent Articles
Cultural appropriation is an uneasy topic in architecture, but a new generation of young design practitioners is ready to change the paradigm. Louis Mokak, director of Indigenous Architecture and Design Victoria (IADV), questions Australia's colonial heritage - both in thought and practice
Tomoko and Takaaki Shiratori have lived all over Japan; from a 'New Town' in Yokohama, to Aichi Prefecture and now in Nerima, Tokyo. Their shared love of gardening means the rooftop is filled with fruits and vegetables, while Tomoko has a passion for reading aloud and talking, which she says, keeps her energised!
Jurien Bay and Wedge Island in Western Australia were landscapes once dominated by informal settlements. However, suburban developments are now reaching WA's central coast. Felix Joensson, from our West Coast partners Future West, asks the question – how do we create beachfront suburbs with soul?