Happenings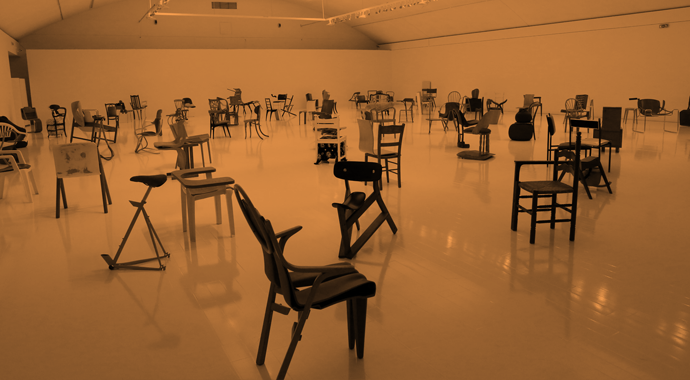 London-based Italian designer Martino Gamper has brought his world-renowned exhibition, 100 Chairs in 100 Days, to Australia for the first time. Launching the RMIT Design Hub exhibition program for 2016, Gamper's collection is the result of spending two years hunting for discarded chairs in streets, alleyways and friends' homes – only to break them down and reimagine them in humorous and inventive ways. Producing one chair a day for the 100-day project, he has created a new '100th chair' for the RMIT exhibition. The new work is titled 'Springmate' and, similarly to the other works, was fabricated in a single day using materials gathered from the various RMIT workshops and from a public callout for personally significant items. The exhibition also includes an 'ideas exchange', where Gamper has brought together a number of local designers to discuss culturally responsive approaches to design.
Gamper started his design career as a 14-year-old apprentice cabinetmaker in his alpine hometown, Merano, before going on to study sculpture under Michelangelo Pistoletto at the Academy of Fine Arts, Vienna. In 2000, he gained a Masters from the Royal College of Art, London, where he studied under hugely influential designer and architect, Ron Arad. Gamper has since gone on to exhibit around the world, with 100 Chairs in 100 Days his most revered project to date.
Original image: 100 Chairs in 100 Days at Benaki Museum, Athens, Greece. Photo via Martino Gamper. 
Where: RMIT Design Hub, Building 100, cnr Victoria & Swanston Streets, Carlton, 3053.
When: 26 Feb – 9 Apr
How much: Free
More info: RMIT Design Hub
Recent Articles
North Melbourne's City Gardens apartment complex is a haven of communal living, complete with kindergarten, vegetable patches, clothing bins and rooftop hives. Elizabeth Campbell spoke to some of the residents of the Peter McIntyre-designed buildings to learn how collective living works – and see more of the unique spaces they call home
Some of the best moments in life are those shared over a cup of tea and freshly baked goods. In the lead-up to the holiday period, slow food blog OSTRO's Julia Busuttil Nishimura brings us a recipe for a Japanese-inspired sweet treat – its the perfect excuse to catch-up for some casual afternoon banter
In 2012, a Berlin art collective signed a 40-year peppercorn lease on a disused railway depot in suburban Berlin. Five years later, Centre for Art and Urbanism (ZK/U) has become a recognised hub of urban innovation and social activism. On the eve of ZK/U's fifth birthday celebrations, Jana Perkovic chats to ZK/U co-founder and director Matthias Einhoff about ZK/U's past, present and future.